At St. Begh's Catholic Junior School we place safeguarding at the centre of all we do.
We are committed to safeguarding and promoting the welfare and well-being of all of our pupils. To this end, parents and carers must be aware that referrals will be made where there is suspected abuse or neglect.
Please see our Policies page for links to our Child Protection Policy and related policies: Overarching Safeguarding Statement; Behaviour Policy; Online Safety Policy; Prevent Statement.
All families need extra support at some time or another. The Early Help process is a way of organising some specialist support at an early stage to intervene before problems escalate. please read this leaflet for more information: Early Help leaflet.

Protecting children is everyone's responsibility…
Cumbria Safeguarding Hub can be contacted on

0333 240 1727 if you have a concern that a child is at risk of significant harm.
Safeguarding Issues
Attendance: Your child's attendance is monitored daily and significant absences are always followed up. The school has an Attendance Policy that you should read and understand.


Behaviour: St. Begh's has clear behaviour rules for the whole school community that must be followed to keep everyone safe and happy. We positively reinforce the message that we keep unkind words, hands and feet to ourselves and treat others with respect. This links well to our Mission Statement, where the whole school community is continually reminded that we are:
Walking hand in hand in the footsteps of Christ.
We are His hands; we are His feet.
Bullying: We understand that children do sometimes fall out and this will be dealt with by an adult who will listen to the children involved and help to resolve the situation. These situations are rarely considered to constitute bullying, however where bullying does occur, cases are taken very seriously and will work with children and families to try and resolve any problems. Please see the Behaviour Policy.


Health and Safety: Everyone at St. Begh's has a responsibility to ensure that adults and children work in a safe environment. The school has clear Health and Safety Policy and Procedures which everyone must follow. The school have fully trained first aiders to deal with any accidents in school.
Online Safety: The school recognises that technology plays an important
roll
in the education of our children and is committed to safeguarding children in the virtual world. Please see our website for advice and information.


Complaints: If you have any complaints about how the school is working with you or your child please feel confident to speak to us. The Headteacher will always be happy to speak
to
you to resolve any difficulties. It is better to speak to us as soon as you have a concern so that it does not become a bigger issue. If you do not feel the matter has been resolved, you can raise your concerns with the Governing Body.

Please visit the following website for great advice from the NSPCC about talking to your child about staying safe: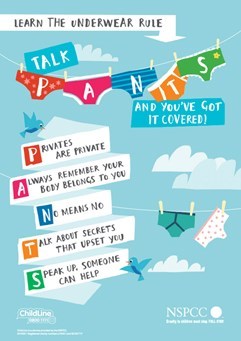 Mrs. Catherine Mallard is the
Designated Safeguarding Lead.
Mrs. Cathy Jones is the
Deputy Designated Safeguarding Lead.
Mrs. Patricia McCarron & Miss Lois Anderson are the Governors with specific responsibility for Safeguarding.
All pupils at St. Begh's take part in the Kidsafe Programme where they learn to recognise the signs of abusive or potentially harmful situations and develop the confidence and self worth to know what to do to keep themselves safe.

We are an 'Operation Encompass' School. This means we have close links with local police and are therefore in a position to offer support to any of our families who are or have suffered because of domestic abuse.